True Health Ministry ("I am the LORD that healeth thee." -- Ex 15:26)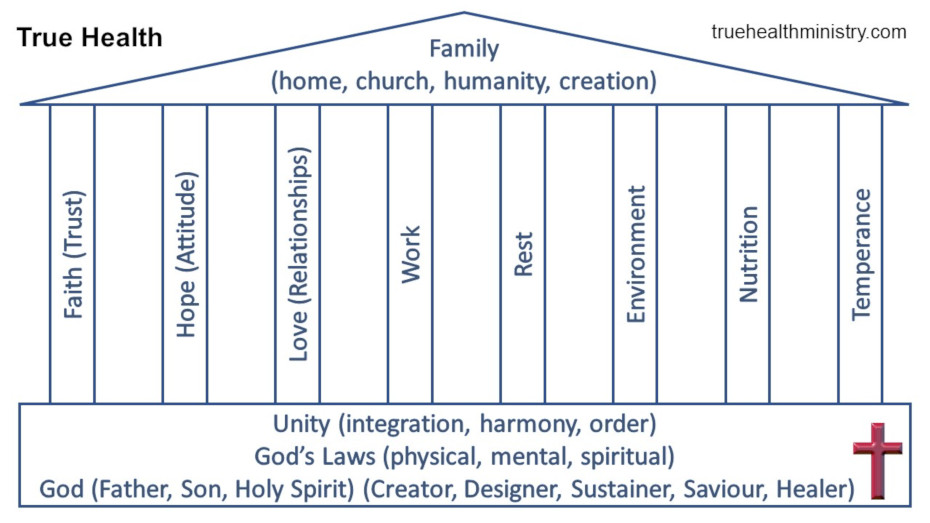 ---
---
The purpose of this web site is to proclaim what the Bible says about true health. (1Co 10:31)
Those who believe in and trust God will be interested to know what He says about true health. (Ps 25:4)

Unbiased (true) science will continue to confirm what God has already revealed about true health in His word. (Jn 17:17)
Biased (false) science will continue to promote its hidden (or unconscious) motives. (1Ti 6:20)

Bible Index

Recommended Readings
Links to Bible verses are shown in red: Jn 10:10 ; clicking on any of these (including this one) takes you to the Bible verse.
Links to pictures are represented by the following image:

; clicking on any of these (including this one) takes you to a picture with a related Bible verse.
---
Disclaimer:

This site does not attempt to diagnose or treat specific diseases.
Each person is unique.
Each person's situation is unique.
For specific medical advice, consult a licensed healthcare provider.

The user assumes all responsibility for the use or misuse of this information.
The compiler of this information is not liable for any negative effects, nor is worthy of praise for any positive results.

---
References:
English Bible texts are from the Holy Bible, Authorized Kings James Version, 1611.
Spanish Bible texts are from the Biblia Reina-Valera Version, 1909.
English definitions are from American Dictionary of the English Language, Noah Webster, 1828 Edition, republished by Foundation for American Christian Education.
Hebrew, Aramaic, and Greek definitions are from The New Strong's Complete Dictionary of Bible Words, James Strong, Thomas Nelson Publishers, 1996.
---
Contact: truehealthministry@gmail.com